lijan@eim.ae | 00971 4 2674966


Home > Product >Metal Base Frame
Metal Base Frame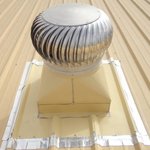 The base frame of this type of ventilator is available in:
Galvanized steel :

The standard thickness of the sheet used shall be 0.7mm. Other thicknesses are also offered.
Base frames are powder coated to a thickness of 70microns on both sides to make it anti-corrosive.
The shade depends on the customer's specification.

(or)

Stainless steel:

The base is available in 0.5mm thick SS model.
Thickness and grade can vary upon requirement.
We supply base frame profile to suit the client's roof profile and slope.
Enquire

Now
Latest

Projects
About Us
Contact Us
Lijan Insulation Contracting LLC
P.O. Box : 84801,
Dubai, U.A.E

Tel : 00971 4 2674966
Fax : 00971 4 2675477
E-mail : lijan@eim.ae